Become a dataviz ninja with our data visualisation training courses
How do you create effective, interesting and useful data visualizations and infographics?
In our public data visualization courses & workshops, David McCandless, founder of Information is Beautiful, offers you training on his process and method for creating successful data visualisations and infographics.
Participants at our sessions have described them as "awesome", "amazing" and "one of the best I've attended" (check out more workshop feedback).
Where and when
More workshops & data-visualisation courses to be announced soon.
Talks
David is giving a rare public talk in Nov 2017, including Q&A and book signing:
Thu Nov 9 – The Emmanuel Centre, London – tickets available
Coming up: online course & more dates sign up for details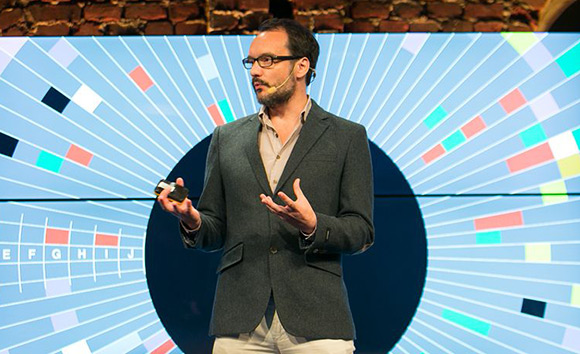 What's in Workshops are Beautiful?
The full day (6.5 hour) or half day (4 hour) introductory level workshops are hosted theatre-style with around 100 participants and high quality projected visuals. They are a mix of lecture & hands-on exercises with plenty of discussion.
Expect to learn:
» concepting and the generation of good, interesting ideas
» creating, selecting and executing appropriate & effective visualisations
» designing and beautifying charts & diagrams
And be broadly introduced to:
» how to use dataviz as a new lens for communication of ideas and stories
» researching, finding and curating juicy data
» the many new methods and approaches for visualising data
» how to combine design-thinking and statistical rigour without compromising either
This workshop will be useful if you're:
» wishing to translate written reports, research and messaging into impactful visual form
» wanting to understand data journalism and story-telling with data
» a words and ideas person looking to translate your concepts into design language
» a visual / design thinker wanting to expand your approach to include data
» a data / code person looking to improve aesthetics and conceptual prowess
What's the style of the workshop?
As a creative director, David's approach combines principles with play, beauty and structure, theory and open experimentation. So expect a fun, informative experience that is interactive and hands-on: pens, paper, sketching, sharing etc. All with a solid underpinning of best practice.
What will I come away with?
Everyone leaves with their own dataviz, a unique limited-edition handout pamphlet, and (by email after the event) a slide deck. David will also sign copies of his books and pose awkwardly on the end of selfie-sticks.
Discounts 
For each event we offer a limited number of discounted places for students, educators, NGO staff & self-employed individuals. For large groups (8 and above) we can sometimes offer a group discount – contact us for details.
Other options
Advanced masterclass 
For true ninjas who have already developed their own vizzes, David will also be offering an advanced workshop. If you're looking to enhance and improve your design, concepting, research and story-telling skills in a group setting, tick the advanced box on the mailform.
Online education
As not all participants are close to our major workshop cities, we are developing an online training series. Register your interest in a webinar by signing up on our list.
Join our Events list for a heads-up on future talks in cities worldwide.
Privately David has given talks and keynotes for organisations and conferences including TED, Google, GE, Microsoft, the Royal Society, the Cannes Festival and the UK Prime Minister's Office (see talks schedule). Due to a busy schedule he can no longer speak for free and requires around 2-3 months to schedule an appearance. If you'd like to book David please contact Ruth at Information is Beautiful.
Where do I sign up for a workshop?
» View Workshops are Beautiful dates & book your place here.
» Sign up to be notified of any workshops or talks coming up near you.
Previous dates:
» London, Mon 10 Jul 2017 (full day) – sold out
» London, 13 Apr 2017 (full day) – sold out
» London, 31 Jan 2017 (full day)
» Milan, Thurs Oct 27 2016
» London, Oct 19 2016 – sold out
» London, Sep 22 2016 – sold out
» London, Apr 28th 2016 – sold out
» Paris, Apr 8 2016
» Amsterdam,Mar 3 2016 – sold out
» London, Jan 26 2016 – sold out
» London, May 26th 2015 – sold out
» London, Sep 9 2015 – sold out
Photo: Rikard Westman